Why should the members of the National Council elect the candidates for constitutional judges in a public vote and what does a non-election of 18 nominees mean?
In the past, the incomplete Constitutional Court has not been able to rule on the unconstitutionality of laws. In which circumstances is the Constitutional Court inoperative and unable to adequately protect people's rights? Why is it essential for Parliament to elect 18 nominees for constitutional judges? Why should Members elect candidates in public?
Tomorrow, the National Council of the Slovak Republic will discuss the election of candidates for new constitutional judges. Given the fact that mandates of nine judges of the Constitutional Court will terminate soon, the Parliament is to propose a binary number, i.e. 18 candidates, according to the Constitution. The Constitutional Court consists of 13 judges and is fully operational only if all judges are appointed.
"Of the 40 candidates proposed, 18 candidates can certainly be selected and elected. If the government coalition resorts to political tactics and obstruction, as recently suggested in the media, and deliberately will not elect 18 candidates, it would be putting the interests of the ruling party over Slovakia's interests to secure effective protection of people's rights, "says Peter Wilfling, a lawyer at VIA IURIS.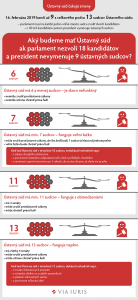 What kind of the Constitutional Court will we have if Parliament does not elect 18 candidates and the President does not appoint nine constitutional judges?
With only ten judges in the Constitutional Court, the plenary repeatedly failed to decide on any matters as the required seven votes were not found. For example, the Constitutional Court was not able to determine whether laws were unconstitutional or not. "If a number of candidates other than 18 was elected based on a possible political tactic, the Constitutional Court would not be able to protect citizens' rights fully and this could even render it inoperable," added Peter Wilfling, a lawyer at VIA IURIS.
Why should MPs elect candidates in a public vote?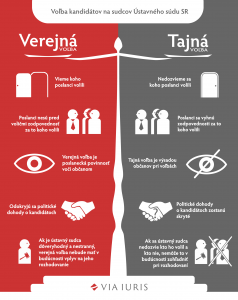 VIA IURIS has repeatedly pointed out that, under the Rules of Procedure, Members should elect candidates for constitutional judges in a public vote. MPs may hold a procedural vote to vote in a secret instead of a public vote, but attorney-at-law Kristina Babiaková warns that: "In a democratic society, MPs should be accountable to their citizens. Therefore, citizens must be aware, especially in severe cases, such as the election of constitutional judges for 12 years, whom individual Members have supported. Otherwise, there is a risk that inadequate candidates will be elected in a secret ballot and citizens will never know which Members have elected them. "